Author, Speaker & Elder Care Cliff Expert
President: CAREgiving Institute
State Director: Ohio Elder Care Planning Council
The News Herald calls Stella Nsong "the Florence Nightingale of Lake County".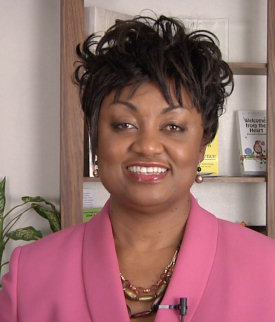 Stella Nsong is a certified dementia practitioner and a certified geriatric care manager. She has been a nurse for the last twenty years and has worked in almost every branch of health care. Over 15 years ago, Stella became a business owner and has owned, created, restructured, revived, licensed and managed private duty in-home care agencies, Medicare certified agencies, medical adult day centers, medical supply companies and assisted living facilities.
In 1990, she won the gold medal for practical nursing in the state of Georgia. In 2011, she was nominated the businesswoman of the year in Chesterland, Ohio. In 2012, she was nominated for the platinum award in Care Management as well as the Professional of Note in Geriatric Medicine.
Stella Nsong is building the bridge to transform America's elder care cliff through education, innovation and collaborative initiatives. She accomplishes this through the writing and publishing of the Elder Care Cliff Report http://www.eldercarecliffreport.org
AUTHOR: She has authored four books on elder care: My Health Care Portfolio (2003), When Love is Not Enough, The Caregiver's Companion (2011), 7 Hours of Respite or 24 Hours of Dead (2012), The Caregiver's Cliff Notes: 27 Things To Do When Your Parents Are Losing Their Independence (2013). To be published in December 2013, The Elder Care Cliff 1.0: DON'T Lose Your Life To Caregiving (Balboa Press).
HEALTH CARE EDUCATION: Stella Nsong has written over 100 articles on topics in aging, caregiving and the inhome care business industry. The Stella 100 column offers tips on how to live independently to 100 years and beyond. The Stella 100 column is featured in the Village Voice a newspaper for the assisted living and independent community.
SPEAKER: Stella Nsong inspires and motivates the audience. She is a widely renowned speaker on health care and caregiving. Stella's 5 most requested topics for speaking engagements are:
Squeezed, Lost & Gone: Why suicide rates surges among baby boomers. 5 steps to getting your caregiving situation under control.
Will you and your career fall off the elder care cliff? Not if you hear this caregiving advice that helps you care for yourself so you don't die early.
Ohio's Integrated Care Delivery System: Developing trust and collaborating for improved care for dual eligible consumers.
Caregiving 911: What To Do When Your Parents Are Resistant To Help and 3 strategies in caring for your inlaws so you don't will yourself out of the WILL
Lost productivity in today's business associated with caregiving. 5 strategies to save the bottom line and 3 ways to lower the health care benefit utilization cost.